Rev. Dr. Carl C. Fickenscher II (-)
---
The Reverend Dr. Carl C. Fickenscher II is Dean of Pastoral Education and Placement and an Associate Professor of Pastoral Ministry and Missions, teaching primarily in the area of homiletics. He received his Bachelor of Arts degree in Political Science from Southern Methodist University in May 1976 and also a Master of Business Administration there in August 1978. After working in business and politics, he earned his Master of Divinity degree from Concordia Theological Seminary in May 1984. Dr. Fickenscher pursued his doctoral degree at Southwestern Baptist Theological Seminary, receiving the PhD in Homiletics from that institution in May 1996.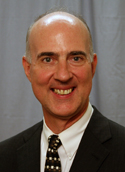 ---
No book reviews found for this person.
No images found for this person.
No interviews found for this person.
No classes found for this person.
No websites found for this person.