Rev. Dr. Douglas Lynn Rutt (-)
---
Dr. Douglas L. Rutt is the director of International Ministries for Lutheran Hour Ministries (LHM), a position he has held since July 2010. In this position he oversees the International Ministries division in St. Louis, Missouri, as well as the staff of more than 30 ministry centers worldwide. He is also responsible for setting the division's vision and planning; evaluating programming and training; stimulating healthy growth of local support in each country where LHM has an office; maintaining productive working relationships with local board and partner church leadership; and maximizing the number of responses and congregation referrals around the world by directing, coaching, and supervising regional directors to prepare and empower the ministry centers to proclaim the Gospel message appropriately to their local populations. Until accepting the position with Lutheran Hour Ministries, Dr. Rutt served as Associate Professor of Pastoral Ministry and Missions, Dean for Distance Learning, and Supervisor of the Ph.D. program for Concordia Theological Seminary in Fort Wayne, Indiana. He has previously served as a missionary to Guatemala, Central America, where he was involved in church planting and theological education, and as a parish Pastor at St. John Evangelical Lutheran Church in St. James, Minnesota and St. John Evangelical Lutheran Church in Truman, Minnesota. He was also the Area Secretary for Latin America/Caribbean with LCMS World Mission. Dr. Rutt has written several articles on mission history and practice and is currently on the editorial committee for Missio Apostolica, the missiological journal of the Lutheran Society for Missiology. He is called upon regularly to consult and speak on mission issues throughout the United States and other countries worldwide. Currently he is on the board for Lutheran Bible Translators and is a member of the Seminary Relations Committee of the International Lutheran Council. He is a graduate of Bethany Lutheran College (A.A), Minnesota State University (B.S.), and Concordia Theological Seminary (M.Div. and Ph.D.). Dr. Rutt's wife Deborah is CEO and President of Humanitri, a St. Louis based Lutheran social service organization, and is the founding president of A&D Global Business Relations, a public relations agency based in Kosice, Slovakia. He and Mrs. Rutt have five children and eleven great-grandchildren.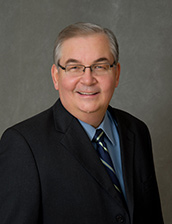 ---
No books found for this person.
No book reviews found for this person.
No images found for this person.
No interviews found for this person.
No classes found for this person.
No websites found for this person.