Rev. Dr. Karl Heimer (-)
---
Pastor Heimer has been serving as sole pastor for San Pablo Lutheran Church since 1982, when he and his family moved from Cleveland, Ohio to El Paso, Texas, dedicating himself to this church's mission to doing ministry for the surrounding Hispanic community.
"Back then, the entire area around San Pablo was heavily impacted by gang violence," Pastor Heimer shared over lunch, his wife adding how it was so bad, pizza places wouldn't deliver to the church, "We campaigned our surrounding community to find out what the greatest needs were, and that's how the Food Emergency Program and our Cornucopia Thrift Shop came about."
The many areas of mercy YLM is known for, such as the Food Pantry and Servant Event trips, have been taking place long before YLM became a non-profit in 2005.  Pastor Heimer has worked alongside dedicated board members, donors, supporters, volunteers, and staff to ensure God's work continues to take place in, and through, YLM.
"I've seen the passion and the love expressed by staff, volunteers, and donors," Pastor Heimer shared during a conversation on the continuation of kindness acts despite COVID-19 difficulties, "This place is not mine, it is not about me, it is not for me, but for, and about, the love of God and the love for His people.  I am nothing, a flawed man, but God's glory is so bright here because we trust in Him."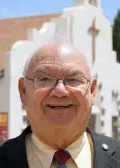 ---
No articles found for this person.
No books found for this person.
No book reviews found for this person.
No images found for this person.
No interviews found for this person.
No presentations found for this person.
No classes found for this person.
No websites found for this person.